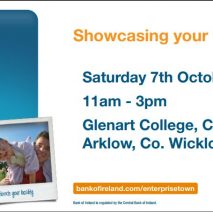 Sovereign Security Ltd will be taking part in this year's
Arklow Enterprise Town Business, Sports & Community Expo.
The Expo takes place on Saturday 7th October at 2017 between 11am and 3pm at Glenart College, Arklow
At our stand the most up to date security products will be on display along with information leaflets.
Members of the Sovereign Security team will be available at the Sovereign Security stand to answer any question you should have.
So why not come along Arklow Enterprise Town Business, Sports & Community Expo and support the local community
Regards,
Maud Cloke
Sovereign Security Limited