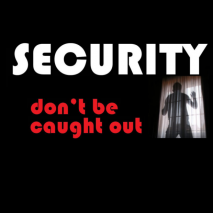 Security – Don't be Caught Out.
At Sovereign security we examine the risks and apply the necessary prevention to protect your business and residence
SECURITY has always been part of human basic needs.
In the old world security issues cropped up around protecting life and property with gates, fences, locks, light and security guards. Today the essentials of security remain the same, the physical security of perimeter protection.
Security manufacturers offers different strengths in all the original security equipment, in addition windows and doors, which should be classified as security equipment, are offered with different resistance, the more robust the physical security the more difficult it is to breach building perimeters. Lighting is also a key factor for comfort, safety and deterring unwanted callers.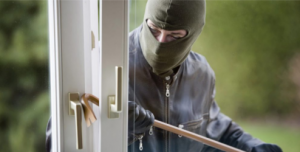 From the first introduction of intruder alarms, closed circuit television and access control, technically we are seeing electronic protection and detection immensely evolving.
However, like the physical security there is still a vast difference in the quality, design and reliability of the systems.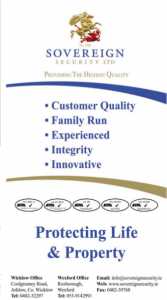 Here at Sovereign, security matters, we examine where the risks are and apply the necessary prevention to protect business and residence.
We are a family run business established in 1986 with a resource of extensive security experience and we pride ourselves on maintaining a close relationship with all our customers.
Please do not hesitate to contact us for your security needs.
Fabian Doyle
Security Practitioner
Sovereign Security Limited
Copyright © 2016 Sovereign Security Ltd.
As seen in WICKLOW PEOPLE, Wednesday, June 29, 2016